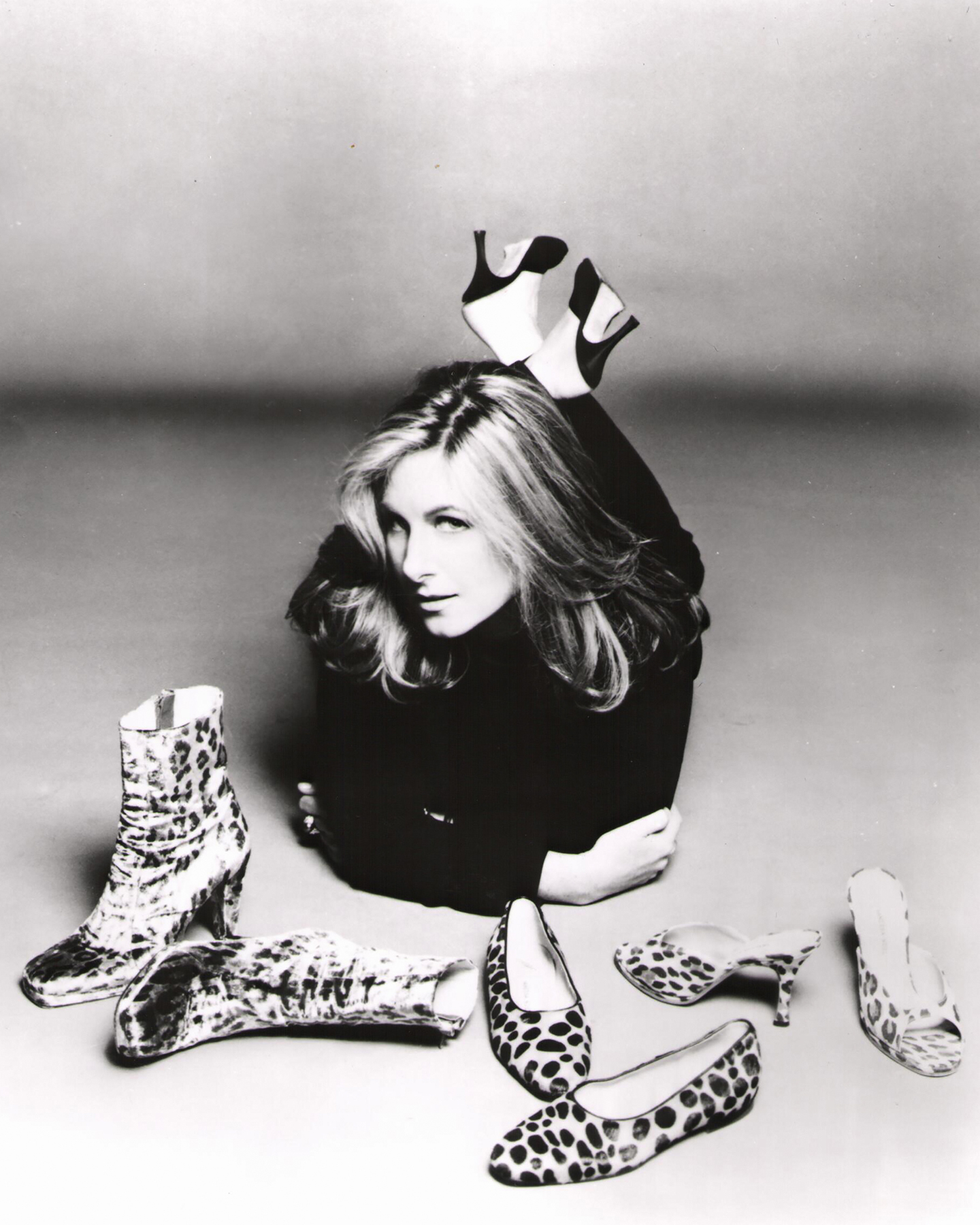 For the past 35 years shoe designer Vanessa Noel has been considered the best-kept secret among New York City's most discerning and fashionable circles. Know for her exquisite and glamorous footwear, Vanessa Noel is the sole designer for her eponymous label. Exotic skins, fur, gemstones, sumptuous fabrics and other rare materials are used to create her exquisite hand crafted footwear collections that have graced the runways of Paris and New York and hold a loyal following of celebrities, socialites and style makers.
CFDA - Council of Fashion Designers of America
The Vanessa Noel label was an immediate success and in 1990 Noel was asked to join the CFDA with recommendation letters written by Carolina Herrera, Carolyn Roehm, Ralph Lauren and the CFDA director Fern Mallis.
BACKGROUND:
Vanessa Noel was born and raised in Bryn Mawr, Pennsylvania on the main line from aristocratic lineage that hails directly back to the last king of Germany, Kaiser Wilhelm. During Noel's childhood her mother was best friends with Grace Kelly. She attended Cornell University where she graduated with a degree in Fine Arts and Architecture.
1987: Vanessa Noel simultaneously launched her fashion label and her first boutique on East 66th Street and Madison Avenue.
1989: Vanessa Noel launched her bridal shoe collection.
1991: Vanessa Noel opened her second shoe boutique on the exclusive resort island of Nantucket, Massachusetts.
2002: Vanessa Noel became the first and only American designer to own her own hotel with the launch of the Vanessa Noel Hotel (VNH), the first boutique hotel in Nantucket.
2004: Vanessa Noel opened her flagship boutique located on the ground floor of her Upper East Side brownstone at East 64th street and Lexington Avenue. Designed by Noel, the nearly 2,000 square foot space is a stunning representation of her signature laid-back luxury style and impeccable taste.
2005: Noel opened her second hotel, Nantucket Island's first, and still only, environmentally conscious luxury hotel, the Vanessa Noel Hotel Green.
2006: Vanessa Noel opened Nantucket's largest contemporary art gallery, the Seven Seas Gallery.
2015: Vanessa Noel launches her first handbag collection and her first fragrance named Stiletto.
PHILOSOPHY:
Early in her career Noel drew the inspiration for her shoes from her architecture background, stating, "I view my shoes as sensual art objects. I create them to be both an individual sculpture and a natural, elegant extension of a woman's leg." Noel's unique shoes are considered works of art by so many that they are included in the collections of The Metropolitan Museum of Art in New York City, The Museum of Fine Arts in Boston, Massachusetts, and Rheinnisches Landesmuseum in Bonn, Germany.
As one of the few designers still designing every collection, Vanessa Noel travels the world sourcing rare and unique materials. Noel also works closely with her Italian tanneries to create exclusive exotic skins such as glow in the dark python, translucent alligator, and most recently 24-karat gold fused alligator. In 2004 Vanessa Noel debuted her stretch alligator boots after developing a process to create stretch alligator from top quality Louisiana alligator skins with her Italian tannery, and Noel holds exclusive use of the stretch skins. Now a Vanessa Noel signature, her over-the-knee stretch alligator boots were chosen by costume designer Patricia Field to be featured on Kim Cattrall in the famous fashion week scene in Sex and the City the movie.
ROYALTY:
Princess Yasmin Aga Khan, Queen Noor of Jordan, HRH Crown Princess Marie-Chantal, HRH Princess Michael of Kent, The late Princess Diana, Catherine Middleton, Duchess of Cambridge
CELEBRITIES:
Rihanna, Lady Gaga, Jillian Hervey (singer), Sonja Morgan (television), Imelda Marcos, The late Whitney Houston, Susan Lucci (Actress), Aretha Franklin, The late Jacqueline Kennedy Onassis, Kim Cattrall (Actress), Sarah Jessica Parker (Actress), Martha Stewart (Business magnate), Oprah Winfrey (Media proprietor), Bette Midler (Actress), Halle Berry (Actress), Mariah Carey, Patti Labelle, Eva Larue, Russian pop star Sasha, Mary J Blige, Janet Jackson, Katie Couric, Paris Hilton, Kathy Lee Gifford, Jill Goodacre, Gwyneth Paltrow, Lynn Whitfield, Anne Hathaway, Goldie Hawn, Kelly Rutherford, Sisters With Voices, Barbara Streisand, The Late Mary Tyler Moore, Sonja Morgan, Luann D'Agostino, Bethenney Frankel, Linda Carter, Ally Sheedy, Portia de Rossi, Paula Zahn, Kim Basinger, Toni Braxton, Holly Hunter, TLC, Liza Minelli, Lauren Hutton, Ileana Douglas, Joanna Kerns, Salt'n Pepa, Chaka Khan, The Late Joan Rivers, Chynna Phillips, Joan Lunden
SOCIALITES & STYLE MAKERS:
Jacqueline de Ribes, Nadia Swarovski, Ivana Trump, Ivanka Trump, Blaine Trump, Vanessa Haydon Trump, Iris Apfel, Susan Rockefeller, Tara Rockefeller, Alison Rockefeller, CZ Guest, Lauren Bush Lauren, Nicole Miller, Hillary Clinton, Vera Wang, Carolina Herrera
RUNWAYS:
Nicole Miller, Ralph Lauren, Rebecca Moses, Chadwick Bell, Keith Lissner, Jeffrey Williams, Ralph Rucci's couture shows in Paris and New York, Donald Deal, Bob Evans
FILMS:
Trainwreck (Dir. Judd Apatow, 2015), Sex in the City (Dir. Michael Patrick King, 2008), Table One (Dir. Michael Bregman, 2000), Runaway Bride (Dir. Garry Marshall, 1999), Deconstructing Harry (Dir. Woody Allen, 1997), Grace of My Heart (Dir. Allison Anders, 1996)
TELEVISION:
The Martha Stewart Show, The Oprah Winfrey Show to be endorsed by Oprah Winfrey, Oprah: Where Are They Now?, Real Housewives of New York, The Face, The Today Show, Fox Business, Backstage Hollywood, CNN, Rachael Ray $40 A Day, Plum TV, Seeking Solutions with Susan, Open House, CBS News
PRESS:
American Magazines:
Vogue, Harper's Bazaar, Elle, InStyle, Vanity Fair, W, Allure, New York Times, Wall Street Journal, New York Magazine, Shuz, People, People Style Watch, Footwear News, Woman's Wear Daily, Alexa Magazine, New York Post, Avenue, Quest, Q, Marie Claire, Travel & Leisure, Town & Country, Cosmopolitan, US, AM New York, Details, Departures, Essence, Detour, Lucky, European Travel & Life, House & Garden, Glamour, Gotham, Hamptons, Manhattan, Islands, Latina, Lear's, Mademoiselle, Manhattan File, Mirabella, More, New York Woman, Penthouse, Playboy, Real Simple, Self, Shape, Martha Stewart, Social Life, Stuff, The Boston Globe, Time Out, Trump Magazine, Victoria, Your Good House, Elle Décor, Architectural Digest, Body & Soul, Bon Appetite, Boston, City, Conde Nast Traveller, Delta Sky, New England Travel & Life, Philadelphia, USA Today, Shoeholics, Ritz-Carlton Magazine, Millenium, Fashion Week Daily
UK Magazines:
Vogue, Grazia, Tatler, Sunday Express
German Magazines:
Vogue, Architectural Digest
French Magazine:
Vogue
Italian Magazines:
Vogue, Amica, IL Mondo         
Netherlands Magazines:
Vogue
China:
South China Morning Post
Japanese Magazines:
Oggi, 25 Ans
BOOKS:
#FASHION: Designers on Instagram (The Council of Fashion Designers of America, 2015)
IMPACT: 50 Years of the Council of Fashion Designers of America (Patricia Mears, 2012)
Silver Girl (Elin Hilderbrand, 2011)
American Fashion Travel (CFDA, 2011)
American Fashion Designers at Home (Rima Suqi, 2010)
Caribbean Hideaways (Meg Nolan, 2010)
American Fashion Accessories (Candy Pratts Price, 2008)
Hip Hotels (Herbert Ypma, 2003)
Nantucket Nights (Elin Hilderbrand, 2002)
The Business of Bliss (Janet Allon, 1999)
PUBLIC SPEAKING:
Women In The World Summit, New York City
Barnes & Noble Bookstores, New York City
Brown Brothers Harriman Woman's Forum Philadelphia, PA & New York City
Museum of Fine Arts in Boston, MA
Cornell University
DISTRIBUTION:
Vanessa Noel shoes have been sold in the following countries:
North America:
Neiman Marcus
Bergdorf Goodman
Saks Fifth Avenue
Bloomingdales
Nordstrom
Independent stores.
Russia:
Uzbekistan:
Kazakhstan:
VANESSA NOEL HOTEL:
In the summer of 2002 Vanessa Noel became the first, and still only, American shoe designer to design her own hotel with the launch of the Vanessa Noel Hotel (VNH), the first boutique hotel in Nantucket. Known for its minimalist stylish decor and serene atmosphere, the Vanessa Noel Hotel embodies all that Noel strives for in her work: under-stated opulence.
VANESSA NOEL HOTEL GREEN:
In 2005, before the Green movement became a booming lifestyle trend, Noel opened Nantucket Island's first, and still only, environmentally conscious luxury hotel, the Vanessa Noel Hotel Green, emphasizing a modern approach to organic luxury and social responsibility.
SEVEN SEAS GALLERY:
In 2006 Vanessa Noel opened the Seven Seas Gallery in Nantucket. Noel describes her gallery as "a cultural anthology depicted through art, literature, photography, fashion, furniture and sculpture."